I am interested in this product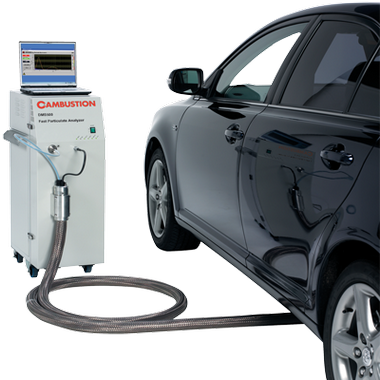 The DMS500 has established itself since 2002 as the particle measurement instrument of choice for engine research, development and calibration, with hundreds of customers worldwide including OEMs, Tier 1s and Universities. Successive generations of the DMS500 have offered improved capabilities and made the DMS500 the most dependable instrument in its class.
The DMS500 represents a "turn-key" system. The fully integrated dilution and sample conditioning system allows measurement from the exhaust port, pre- or post- after-treatment, in the CVS tunnel and even from ambient. 10Hz data and a T10-90% response time of just 300ms even with a 7 metre sample line allow the DMS500 to offers valuable insights into engine operation, even during highly transient cycles such as RDE, NRTC and FTP75.
Backed by over 15 years of continuous development, the DMS500 is straightforward to operate even for inexperienced users. Dependable error detection and optional test cell integration allow the DMS500 to be seamlessly added as part of general test cell equipment. Traceable calibration certificates and automated checks guarantee accurate and repeatable results.
I am interested in this product
Detailed Specs
Particle Mass (PM) for gravimetric regulations and for engine out model development (e.g. DPF/GPF load models).
Particle Number (PN) with a fully characterised thermodilution system including a Catalytic Stripper to remove volatile particles when required. Flexible software allows measurements with a 23nm roll off (Euro 6) or the possible future 10nm roll off (possible Euro 7).
Particle Size distributions (5nm -2500nm) for maximum understanding of combustion behaviour, particle formation and evolution, and the effects of engine controls on PN and PM.
The DMS500 uses electrical mobility measurements to produce particle size / number spectra between 5 nanometres and 2.5 micrometres. Since the classification of particles according to their differing electrical mobility takes place in parallel (rather than in series as in a scanning instrument) the DMS series is able to offer the fastest available size / number spectral measurement of its type.
The user interface processes the spectral data in real-time to output particle mass, surface area or number as well as basic spectral information.
Uniquely able to output particle size, gravimetrically-correlated mass and particle number correlated with the Euro 6 requirements in real-time. Its integrated sampling system allows it to sample at any point between the exhaust valve and the CVS tunnel, enabling studies of engine and aftertreatment performance.
Supplied with calibrations suitable for both Diesel and gasoline particulates which can be switched in software.
Fitted with a fully integrated two-stage dilution system specifically for direct engine exhaust measurements.
Rugged instrument to add particulate monitoring capability to a test cell. Controlled via a dedicated PC, it includes support for the AK protocol (via serial or Ethernet) allowing easy integration with the test cell, including remote control, status monitoring and data output, facilitating projects such as automated mapping.