I am interested in this product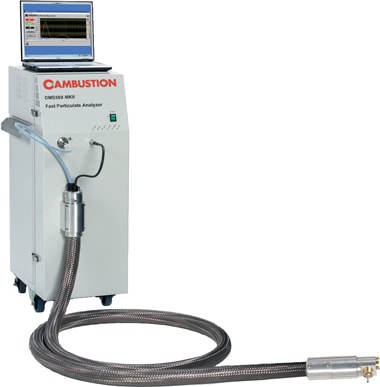 The Cambustion DMS500 MkII offers simulataneous measurement of particle size distributions (5nm to 2500nm), particle mass (PM) and particle number (PN). Combined with the fastest time response (T10-90% 200ms, 10Hz data) and best sensitivity in class. DMSs are widely used for gasoline and diesel engine development, aerosol science and ambient aerosol monitoring.
The Dual Sampling Accessory for the DMS500 allows users to automatically switch between two sample locations for particulate measurement.
I am interested in this product
Downloads
Detailed Specs
Since 2002 hundreds of DMS500s have been adopted in over 30 countries worldwide for engine research, development and calibration. A unique combination of measurement capabilities; particle size, particle number (PN) and soot mass (PM) all in real time has made the DMS500 the measurement instrument of choice for OEMs, Tier 1s and Universities engaged in engine research and development. With comprehensive test cell integration and raw sampling capability, the DMS500 is ideally suited to both rolling road and engine test cell applications, while the fast response time allows users to address issues associated with Real Driving Emissions (RDE).
Hundreds of technical publications including SAE papers have used DMS500s for engine research. Euro 6 legislation imposes a restriction on the number of solid particles a vehicle can emit, either as N/km for light duty or N/kwh for heavy duty.
The DMS500 system is a non-certification system to measure particle concentration. The DMS500 offers a T10-90% response time of 200ms,offering insights into transient calibration issues which contribute a significant proportion of the total emissions on cycle simply unavailable from legislative measurement devices. The DMS500 has been adopted by vehicle manufacturers and engine developers worldwide as a key tool to understand and reduce PN emissions, from Diesel, GDI and other fuels. Measurement of the full size spectrum between 5 and 1,000 nm allows the DMS500 to be used for investigation of possible future legislation- for example the possibility of a 10 nm cut off for solid particles, or the existing 23 nm cut off.