I am interested in this product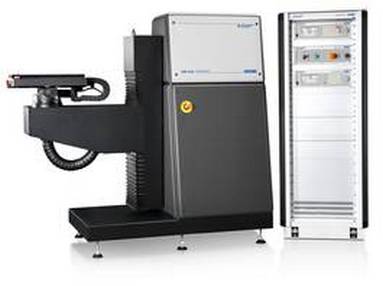 The AMS 3000 features highly dynamic and fast motor drives combined with exceptionally robust and stable construction. It is ideal for testing standard automotive headlamps, and signal lamps for runways and taxiways at airports. The compact design of this high-precision and powerful system makes it the goniophotometer of choice where space is at a premium.
I am interested in this product
Downloads
Detailed Specs
The AMS 3000 comprises the 2-axis goniometer with a sample stage movable in 3 axes and 500 x 350 mm in size for mounting the test sample, and the AMS Controller. A laser located in the center of rotation of the vertical axis facilitates alignment of the sample. Furthermore, initial alignment can be easily carried out with the assistance of the RecoCAN Remote Control.
The system's rotational speed of 50°/s allows it to record very fast "on-the-fly" scans of complete light distributions or of specific zones at exceptionally high levels of accuracy and efficiency – similar to the larger AMS 5000.
Features
* CIE Type A Goniometer for photometric measurements in the far field
* For test samples up to 1200 mm in length and weighing 20 kg
* Display of luminous intensity distribution in isolux and isocandela diagrams
* Data export in IES, KRS, CSV formats