I am interested in this product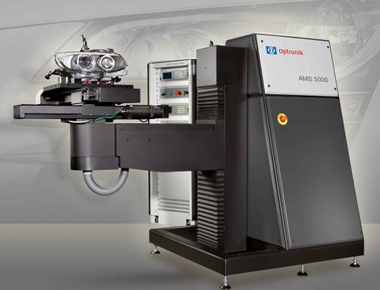 The AMS 5000 Goniophotometer sets benchmarks for efficiency, performance and accuracy with impressive dimensions, highly dynamic motor drives, alongside exceptionally robust and stable design. This system features wide angular ranges making it the right choice for measuring very large, heavy headlamps and signal lamps.
I am interested in this product
Downloads
Detailed Specs
The AMS 5000 consists of the goniometer with a movable sample stage measuring 500 x 500 mm and the AMS Controller. Modern servo drives control the five axes and generate very fast and at the same time very smooth movements. A laser located in the center of rotation of the vertical axis facilitates alignment of the sample. A manual control unit with touchscreen on the sample stage allows the test sample to be moved easily into the correct position. Furthermore the system features fast on-the-fly measurement scans.
Features
* CIE Type A Goniometer for photometric measurements in the far field
* Particularly large angular ranges for test samples up to 1800 mm in length and weighing 50 kg
* Display of luminous intensity distribution in isolux and isocandela diagrams
* Data export in IES, KRS, CSV formats