I am interested in this product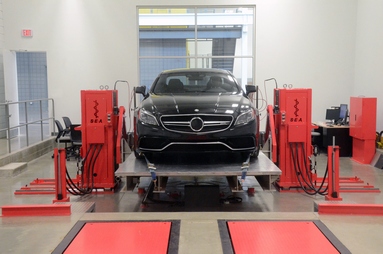 VIMF facility is used to measure vehicle center of gravity position; vehicle roll, pitch, and yaw mass moments of inertia; and vehicle roll/yaw mass product of inertia.
I am interested in this product
Downloads
Detailed Specs
S-E-A is proud of the fact that the VIMF has remained the gold standard in vehicle inertia measurement devices for more than two decades. Representative vehicle inertial characteristics are important parameters for the development of motor vehicles and the proper operation of on-board systems. It is important to understand the VIMF's accuracy and repeatability, as well as the underlying methodology and assumptions, when performing tests or using the results of the test. The VIMF product line has expanded over the years with configurations to accommodate small vehicle components, engines, passenger vehicles, large commercial and military vehicles, and anything in between. VIMF test facilities range from 450 to 45,000 kg maximum capacities.
The VIMF is available in various sizes, each utilizing a single platform for all measurements, thus minimizing test time and space requirements. The VIMF uses a combination of stable and inverted pendulum methods to determine CG height, moments of inertia and various yaw cross products of inertia. Test operation is computer guided, user friendly and highly accurate.
The original design of the VIMF has proven itself to be very robust, reliable and extremely accurate. In 2015, the VIMF was redesigned with an upgraded state-of-art control system, additional automation and improved ergonomics, while still providing the same high-quality measurements of vehicle mass, vehicle center-of-gravity, and vehicle inertia properties. These upgraded features have been designed so that existing VIMF machines can be retrofitted with the new features. The C1000 and C3000, part of the VIMF product family, are state-of-the-art machines for measuring the center of gravity (CG) of vehicle components, such as powertrains. The C1000 is ideal for measuring the properties of passenger vehicle powertrains, while the C3000 can accommodate powertrains for larger commercial vehicles. The maximum test component weights of the C1000 and C3000 are 450 kg and 1350 kg, respectively. These facilities are used to determine:
Center of Gravity (X, Y, Z)
Moment of Inertia (IXX, IYY, IZZ)
Products of Inertia (IXZ, IXY, IYZ)
Unlike traditional testing methods, once the test component is secured to the platform, it does not need to be reoriented. This saves considerable time, labor and human error compared to other testing methods.