I am interested in this product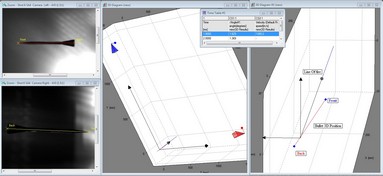 TEMA is the market-leading software suite for advanced Motion Analysis tests. Thanks to its high accuracy, modular structure, calculation speed and intuitive user interface – TEMA is used by professionals across the globe in a wide range of Motion Analysis applications
I am interested in this product
Downloads
Detailed Specs
TEMA users are able to import image sequences and automatically track any given object throughout the sequence via a set of proprietary tracking algorithms. The result is presented in predefined formats such as tables and graphs showing quantifiable values for example position, speed and acceleration over time.
ACCURATE RESULTS – TEMA is the most accurate and feature-rich Motion Analysis software currently available.
POWERFUL TOOLBOX – The modularity of the software gives the user an almost unlimited number of application areas. To facilitate time efficient testing sessions – TEMA is able to compute a large number of tracked points and data at high speeds.
WIDE COMPATIBILITY -TEMA is compatible with all major
camera brands on the market. Moreover, the software suite is capable of capturing and controlling image sequences from multiple camera makes – all in one single system.
EASE OF USE – The TEMA user interface is designed
to be flexible and intuitive to any person who is familiar with basic Windows functionality and workflow.
APPLICATIONS
•Automotive Industry
•Defence industry
•Sports
•Research & Development