I am interested in this product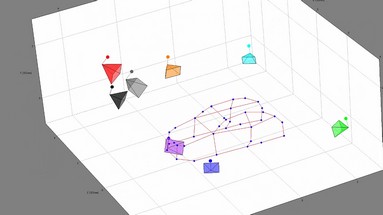 Static 3D is a powerful software tool capable of generating 3D models and measurement data – from static objects and environments – using still imagery.
I am interested in this product
Downloads
Detailed Specs
The Static 3D module is used to survey static objects in order to build target models from images of the object. Markers are used to increase the accuracy of the calculation. The set-up procedure involves assigning tracking algorithms to markers in the images. If the markers have certain symmetries (e.g. quad markers or circles), the algorithms will automatically lock on to the center of each marker with sub pixel accuracy.
POWERFUL-Static 3D is able to rapidly model a 3D target out of a static object. The operator can choose from a large library of tracking algorithms depending on the image and situation.
SYNCHRONIZED-The user interface is fully synchronized: any change of parameters or set-up will immediately effect all parts of the tracking session, updating results, graphs and tables.
COMPATIBLE-Static 3D is compatible with all major camera brands on the market. External data from other instrumentation data can easily be imported and synchronized with the image data.
TOTAL SOLUTION-Static 3D is optimized to handle all steps in the process through a software wizard. Generated 3D models can be exported and used in 3D Motion Analysis tests.