I am interested in this product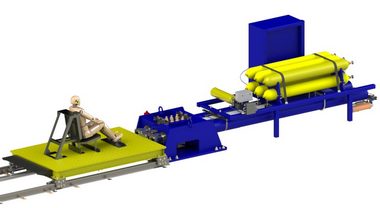 The ServoSled 1000 performs seat, child seat, seatbelt, and battery regulatory pulses as well as more complex frontal vehicle pulses. Built on the proven ServoSled technologies being used in more than 50 safety labs worldwide, the ServoSled 1000 can provide reliable, repeatable compliance test performance.
I am interested in this product
Downloads
Detailed Specs
Fast installation with minimal civil work – with simple concrete modifications, ServoSled 1000 can be installed within existing buildings, speeding construction and reducing cost
Lower operating costs, more complex pulses than a decelerator –uses no wires, reducing the cost per test, and can perform much more complex pulses than a decelerator to meet a wide variety of testing
Performs all standard component tests and complex vehicle pulses –performs all the regulatory pulses plus vehicle pulses with high frequency, closed-loop pulse controls to further validate seat and restraint systems
ServoSled 1000 provides the reliable, repeatable component-level compliance test performance of the industry-leading ServoSled system at a fraction of the cost, complexity, and lead/installation time.
TESTS PERFORMED
Frontal
Offset
Body in White
Seats – ECE R17, ECE R80, FAA
Child Seats – ECE R44, FMVSS213
Seat Belts – FMVSS208, ECE R16
Battery – ECE R100
Rear Impact – FMVSS202a, EuroNCAP Whiplash, IIHS-IWPG