I am interested in this product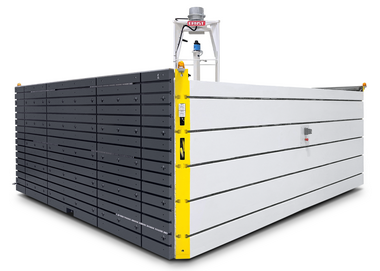 Thanks to the modular design and a high degree of prefabrication at the factory, the ERNST mobile crash block can be set up anywhere in the world within a very short time, without the need to set up an elaborate construction site infrastructure.
I am interested in this product
Detailed Specs
The universal system makes it possible to expand the crash block compatibly at any time, depending on the test situation and budget phase: Starting with a crash plate and a linear, manual adjustment up to a four-sided crash block, which, supplemented by our electrical barrier positioning system, contributes highly efficiently to the economic optimisation in a crash lab. While an evaluation of the completed test takes place on the front side, the upcoming tests can already be set up and prepared on the remaining crash plates. The hydraulic running gear stands out due to its low-maintenance and low-wear characteristics and achieves a speed in travel mode of 10m/min. Within a few minutes, the mobile crash block has aligned itself for a new test and braced itself with force and positive locking. Thus, test forces of up to 3,900 kg and 60 G can be introduced into the mobile crash block. The crash plates can be individually customised in their dimensioning. We offer various solutions for the connection point between the fixed barrier and the crash plate. The mobile crash block can either be operated via cable or with a battery. A circumferential camera guide can be attached for detailed video recordings of the respective experiments. The integrated media supply of power, compressed air and network complete the product.
Absorption of test forces of up to 3.9 MN
Moving speeds up to 10 m/min
Operating time wireless: Up to 2 hours
Integration of the ground anchors into the existing infrastructure
Can optionally be used outdoors by nickel-plating the crash plates
Circulating media supply
Lifting running gears
Automatic anchoring
Hydraulics
Ground anchorage
Walkable cover plate