I am interested in this product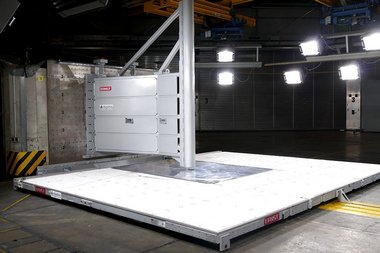 The Flying Floor platform is used to perform side impact tests. A permanent guidance of at least two guides in the crash track's rail allows for the highest hit accuracy.
I am interested in this product
Detailed Specs
The structure and the design of the running gears is designed for operation up to 64 kph. For this purpose, the floor conditions should be maintained over the entire travel width of the Flying Floor in accordance with DIN 18202 ± 2 mm/m max. ± 5 mm over the entire track length, in relation to the rail's top edge. The Flying Floor is optimally supported by 32 individually suspended running gears in order to minimise the effect of uneven ground on the vehicles to be tested. Deceleration is effected up to 35 kph via 4 integrated hydro-dampers. For tests above 35 kph to 64 kph, deceleration is effected by buckling tube dampers. Both systems can optionally be integrated together in the Flying Floor. An exchange within the systems can take place within a very short time. At ERNST, each Flying Floor system is designed to meet the customer's specific requirements so that the running behavior achieves the best possible values and the measurement results are valid.
Test vehicle dimensions: 6000 mm x 2500 mm x 2300 mm max.
Test vehicle weight: 5000 kg max.
Stroke of the shock absorber pistons: 600 mm
Standard dimensions of the film window: 2500 mm x 2000 mm.
Flying Floor total weight: approx. 2100 kg
Braking system adapted to customer's specifications
Hydraulic dampers
External buckling tube brake
Release mechanism
Hidden lifting points
Running gear
Universal connection to all propulsion systems