I am interested in this product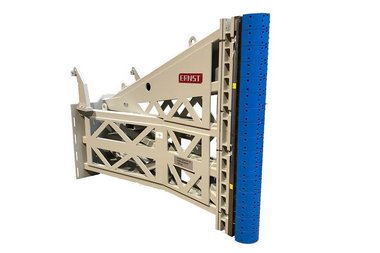 ERNST offers a wide assortment of fixed barriers for conducting standard and special tests. These are primarily characterised by their rigidity, which guarantees a high standard of quality. ERNST delivers the appropriate equipment for the automation of block stems and products can be integrated into crash walls at any time.
I am interested in this product
Detailed Specs
30° wedge
The 30 degree wedge is used to perform tests in accordance with the FMVSS 208 test specification. Due to the symmetrical design, the wedge can be used for test scenarios on both sides. The integrated long holes enable a continuous height adjustment. 19 mm thick plywood panels are screwed on the impact surfaces, which can be easily replaced. The barrier is equipped with a long impact surface (approx. 4500 mm) to ensure that the test vehicle slides along the 30 degree wedge and any contact with the crash block or crash wall can be avoided.
ODB
The ODB barrier enables the conducting of vehicle tests for the protection of passengers with varying degrees of overlap. The barrier can be attached directly to the existing crash block or crash wall, without the use of an adapter plate. The fixed barrier is constructed of welded steel segments, completely assembled and equipped with all required attachment holes.
Pole equipment
The pole makes it possible to conduct pile tests in accordance with current regulations. The pole is dimensioned according to customer requirements and can be easily replaced at any time. It is bolted directly to an existing crash block or crash wall and is usually used in combination with a flying floor. Likewise, the pole can be equipped with load cells, which can also be implemented subsequently at any time by integrating individual dummy-load cells by ERNST at the beginning.