I am interested in this product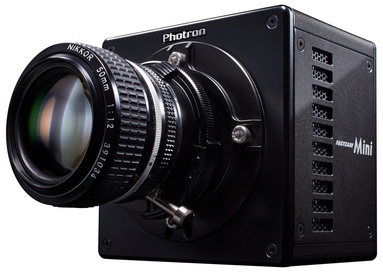 The Mini UX100 is engineered to operate in an environment where it may be subject to extreme mechanical shock and vibration and tested at 100G in 6 axis so can be utilized in High-G automotive applications. Using innovative CMOS image sensor technology, the Fastcam Mini UX achieves high sensitivity with small 10 micron pixels that are fitted with micro lenses which increase fill factor.
I am interested in this product
Downloads
Detailed Specs
4,000 fps @ 1,280×1,024 pixels
5,000 fps @ 1280 x 1000 pixels
6,250 fps @ 1280 x 800 pixels
25,000 fps @ 1280 x 200 pixels
200,000 fps @ 1280 x 24 pixels
800,000 fps @ 640 x 8 pixels
Global electronic shutter from 20ms to 1 μs
Memory Option: 16GB
Compactness 120mmx120mmx90mm (1.5Kg)
High-G operation: Tested to 100G, 10ms, 6 axis
Light Sensitivity: ISO 10000 Monochrome, ISO 5000 Color
Trigger Modes: Start, Centre, End, Manual, Random
12 bit pixel depth monochrome, 36 bit for color
Camera Control Interface: High Speed Gigabit Ethernet
National Instruments DAQ support
Photron FASTCAM Viewer: Simple and easy to control software for Mini UX camera
Photron FASTCAM Analysis (PFA): Entry Level Analysis software for measurements of Displacement, Velocity & Acceleration.
Applications: Fluid dynamics, Partical Image Velocimetry, Life Sciences, Biomechanics, Onboard/ Offboard automotive safety tesing, Defence & Aerospace Research etc.