I am interested in this product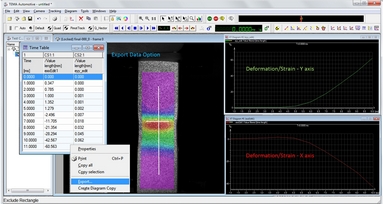 Digital Image Correlation (DIC) is a full-field image analysis method, based on grey value digital images, that can determine the contour and the displacements of an object under load. DIC is very effective at mapping deformation in macroscopic mechanical testing, where the application of specular markers provide the needed contrast to correlate
images.
I am interested in this product
Downloads
Detailed Specs
TEMA DIC System is a complete system solution including all the required hardware and software for non-contact optical analysis for surface strain and displacement.With TEMA DIC it is possible to accurately measure full strain fields and extensometer strains over a complete surface. This allows for non-contact measurements of strain, allowing analysis of the material properties, without affecting the result through contact.TEMA DIC and TEMA DIC System comes in a 2D and a Stereo version. The Stereo version has 2 cameras and is capable of measuring surface strain & deformation.
The tracking algorithms used in TEMA have been developed and refined for close to 30 years. Today, TEMA is the most accurate and feature-rich Motion Analysis software currently available. DIC measurments can reach to accuraccy levels of 0.01 pixels.
APPLICATIONS
Material properties
DIC offers characterization of material parameters far into the range of plastic deformation. Its powerful data analysis tools allow the determination of the location and amplitude of maximum strain, which are important functions in material testing.
Fracture mechanics
DIC is ideal for fracture mechanics investigation. The full-field measurement delivers exact information about local and global strain distribution, crack growth, and can be used for the determination of important fracture mechanics parameters.