I am interested in this product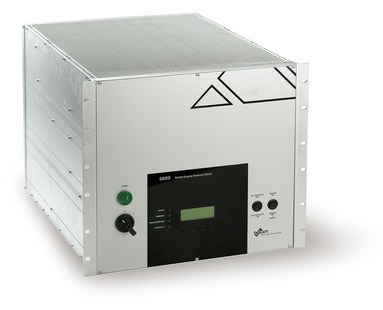 The DEED system is a fully EURO5b/6 conform engine exhaust conditioning system. This easy-to-use system conditions the sample precisely and in a repeatable manner every time. The DEED fulfils all requirements and recommendations set in EURO5b/6 standard for a VPR (Volatile Particle Remover) design and all units are calibrated for PCRF (Particle Concentration Reduction Factor) and evaporation efficiency as determined in the EURO5b/6 standard.
I am interested in this product
Downloads
Detailed Specs
The DEED unit is suitable for CVS sampling as required in the EURO5b/6 standard but it can also be connected directly to the tailpipe using DEED-300 and DEED-150 samplers. The DEED-300 high pressure diluter enables connecting the DEED system to pre-DPF conditions where particle concentration, sample temperature and sample pressure are typically high. Due to its innovative design, the DEED-300 always keeps a constant total dilution factor regardless of pressure and temperature conditions inside the tailpipe. The two dilution stages used in the DEED-300 increase the total dilution factor of the DEED system by about 40. This additional dilution ensures that the particle concentration at the DEED outlet is below 10000 particles/cc even when sampling from high pre-DPF particle concentrations. DEED-300 features with DEED:
DEED-300 dilution factor constant at approx. 40 (individually calibrated)
Total dilution factor with the DEED approx. 4000 or 40 000
Sample temperature range 0-600 °C
Sample pressure range 30-1000 mbar above ventilation pressure DEED-150 POST-DPF SAMPLER WITH DEED
The DEED can be connected directly to the tailpipe using the DEED-150 post-DPF sampler which consists of a perforated probe, a heated sampling line and necessary connections. The DEED-150 is most suitable for post-DPF conditions where particle concentrations are low although it can also be used with vehicles without exhaust after-treatment devices. The DEED-150 connection to the tailpipe is a 10 mm Swagelok™ and a perforated probe is used to draw the sample from the tailpipe into the DEED-150 system. The temperature of the DEED-150 heated line is controlled by the DEED system and the entire sampling line from the tailpipe to the DEED inlet can be heated to a desired temperature (0-400 °C) to avoid condensation.
DEED-150 features with DEED:
Total dilution factor with DEED 100 or 1000
Sample temperature range 0-400 °C
Sample pressure range 950 – 1050 mbar
Extremely low particle losses
DEED compliant with EURO5b/6
Robust, stainless steel construction
DEED compliant with EURO5b/6