I am interested in this product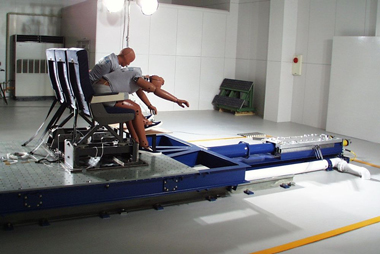 Deceleration sleds are used to perform some specialized tests, such as tests that involve simulation of pre-impact braking. Decelerator sleds also are generally less expensive to produce, operate, and maintain. When carefully designed to minimize pre-impact dummy movement, deceleration sleds can provide superb results.
I am interested in this product
Downloads
Detailed Specs
Our ServoSled reverse-acceleration catapult-type sled systems represent the top of the Seattle Safety product line. Revolutionary
friction braking pulse control and other design innovations give the ServoSled system superior pulse accuracy, repeatability, and frequency response. The ServoSled system has "inherent" negative-g pulse capability due to the friction servobrake acting directly against the sled, allowing the baseline system to perform negative-g and side-impact pulses.
Pulse tuning is typically completed within one to three test runs for even complex high-frequency pulses. With optional side-impact and payload pitching systems, the ServoSled system provides unsurpassed performance and functionality.
Seattle Safety believes that bending metal is the best overall approach for decelerator sleds, and that the Seattle Safety sled has the highest overall performance of any decelerator sled available at any price. At the end of this Proposal there is a discussion of the relative technical merits of metal-bending and hydraulic systems.
Seattle Safety has produced ten decelerator sled systems for customers in the USA, Europe, and Asia, and has produced two servo-controlled accelerator systems in cooperation with another company. Thousands of tests a year are run on Seattle Safety decelerator sleds, and the system is completely proven. The impact velocities are accurate and consistent. The pulses are predictable and repeatable. The equipment is easy to use and strong, as evidenced by our very rare sale of spare parts.