I am interested in this product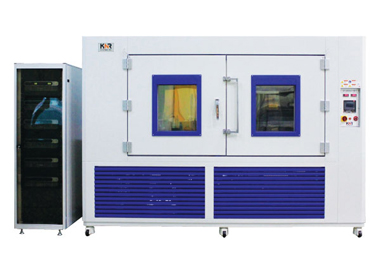 Motor environment durability test system is for the driving and durability test of various vehicle motors under temperature and humidity environment. As much as, six specimen can be tested independently with this system.
I am interested in this product
Downloads
Detailed Specs
The window lift motor durability testing system is for the durability of a window lift motor. The system contains control system, which can control the system and collect, save, and analyze the test data, and chamber which can control temperature and humidity. Totally, six specimens can be tested at the same time by created cycle profiles.
Specimens are placed inside the chamber and the driving module is placed outside the chamber for protecting from environmental effect. Therefore, there is a spindle between specimen jig and driving module to transmit power. After the operating signal from the controller, the specimen (window motor) is started, then the torque is applied to the motor spindle by the powder clutch .For applying the impact to the specimen, a pneumatic actuator holds the motor rotation.
The torque can be measured and monitored by the torque meter which is placed behind the driving module .The Measured signals uses as a feedback signal for the torque control loop.The Encoder (inside driving module) can collect the rotation speed and angle of the specimen .There is a jig can be placed between the spindle and specimen for various specimens.