I am interested in this product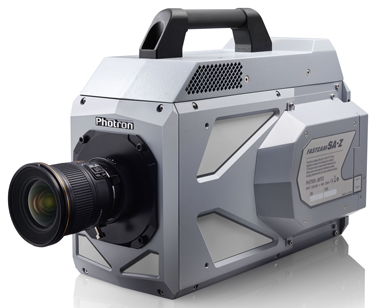 The Photron FASTCAM SA-Z is a powerful camera featuring up to 20,000 frames per second at full resolution ( 1024 x 1024 pixels) and 2 Million frames per second at reduced resolutions. Light sensitivity of ISO 25,000 with Shutter speeds as low as 159ns freezing the fastest without motion blur.
I am interested in this product
Downloads
Detailed Specs
20,000 fps at 1,024 x 1,024 pixels
40,000 fps at 1,024 x 512 pixel
100,000 fps at 640 x 280 pixel
200,000 fps at 384 x 176 pixels
480,000 fps 512 x 56 pixels
Global electronic shutter from 1ms to 1μs independent of frame rate
Memory Options 8GB, 16GB, 32GB or 64GB
Live and playback video through Two HD-SDI or Dual RS-170 (NTSC /PAL) outputs.
Light Sensitivity: ISO 25,000 Monochrome, ISO 10,000 Color
Trigger Modes: Start, End, Center, Manual, Random, Random Reset, Random Center, Random Manual
12 bit pixel depth monochrome, 36 bit for color
Camera Control Interface: Remote computer control via high-speed dual port Gigabit Ethernet or optional local control via handheld keypad with LCD monitor
National Instruments DAQ support.
Photron FASTCAM Viewer: Simple and easy to control software for SA-Z camera.
Photron FASTCAM Analysis (PFA): Entry Level Analysis software for measurements of Displacement, Velocity & Acceleration.
Applications: Materials Science, Combustion Research, Fluid dynamics (PIV), Ballistic Imaging, Defense and aerospace research, Plasma and arc studies, Shock Waves and Detonation