I am interested in this product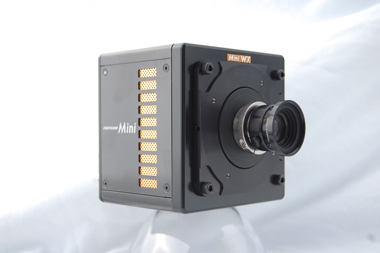 The FASTCAM Mini WX100 high-speed camera delivers exceptional high resolution imaging performance by providing 2048 x 2048 pixel resolution at 1,080fps, 1920 x 1080 pixel full HD resolution at 2,000fps. Mini WX is compact, lightweight and also rugged (operationally tested to 100G, 10ms, 6-axes) and makes the system well suited for automotive safety testing.
I am interested in this product
Downloads
Detailed Specs
1,080 fps @ 2,048×2,048 pixels
3,000 fps @ 1280 x 960 pixels
10,000 fps @ 512 x 416 pixels
20,000 fps @ 256 x 224 pixels
80,000 fps @ 256 x 32 pixels
Sensor: Advanced CMOS image sensor that is unique to Photron
Global electronic shutter from 16.7ms to 2.8µs idependent of frame rate
Memory Options 8GB, 16GB or 32GB
Compactness 120mmx120mmx99mm (1.6Kg)
High-G operation: Tested to 100G, 10ms, 6 axis
Light Sensitivity: ISO 6,400 Monochrome, ISO 2,000 Color
Trigger Modes: Start, Centre, End, Manual, Random
12 bit pixel depth monochrome, 36 bit for color
Camera Control Interface: High Speed Gigabit Ethernet
Colour Filter Array (CFA)- Employs a Colour Filter Array and proprietary colour processing algorithms to accurately reproduce colour
True Region Of Interest (ROI): Feature to position ROI at any sensor position
National Instruments DAQ support
Photron FASTCAM Viewer: Simple and easy to control software for Mini WX camera
Photron FASTCAM Analysis (PFA): Entry Level Analysis software for measurements of Displacement, Velocity & Acceleration.
Applications: Microscopy, Microfluidics, Fluid dynamics, PIV, Material Science, DIC, Automotive Safety Testing – Crash/ Rollover/ Pedestrian/ Head Impact, Defence, Aerospace, Biomechanics, Sport, Life Science etc