I am interested in this product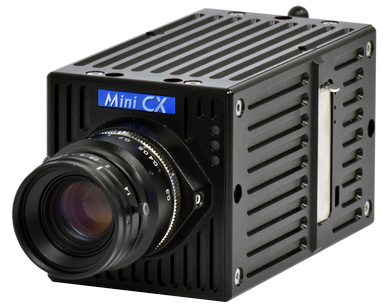 The FASTCAM Mini CX high-speed camera delivers exceptional high resolution imaging performance by providing 1920 x 1080 pixel (full HD) resolution at 1,000fps. A small self-contained camera design with built-in battery and Wi-Fi connection to meet most of the applications.
I am interested in this product
Downloads
Detailed Specs
1000 fps @ 1920 x 1080 pixels
2000 fps @ 1280 x 800 pixels
5000 fps @ 1280 x 348 pixels
Global electronic shutter from 1ms to 4µs independent of frame rate
Memory 5.2GB
WiFi Connection
Buitl-in battery operation for up to 30 minutes
Compactness 67mm x 71mm x 120mm (0.9Kg)
High-G operation: Tested to 150G, 10ms, 6 axis
Light Sensitivity: ISO 10,000 Monochrome, ISO 5000 Color
Trigger Modes: Start, Centre, End, Manual, Random, Random Reset
10 bit pixel depth monochrome, 30 bit for color
Photron FASTCAM Viewer: Simple and easy to control software for Mini CX camera
Photron FASTCAM Analysis (PFA): Entry Level Analysis software for measurements of Displacement, Velocity & Acceleration.
Applications: Onboard/ Offboard automotive safety tesing, Defence & Aerospace Research etc.