I am interested in this product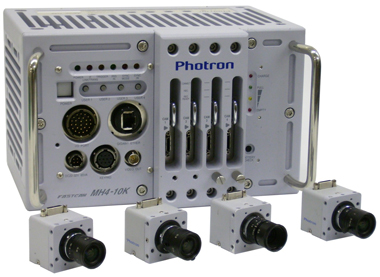 The FASTCAM MH4-10K high-speed camera makes it possible to shoot 2,000 frames per second with 512 by 512 pixel by connecting four channels of subminiature camera heads. It received high praise in the automotive collision test area, based on its superior performance and high reliability.
I am interested in this product
Downloads
Detailed Specs
On-board, multi-head high speed video system developed specifically for automotive safety testing.
Four tiny High Speed Cameras, each less than one and a half inch (35mm) cubed, providing incredibly light sensitive performance up to 2000 full resolution fps (frames per second).
Small and lightweight camera head 35mm x 35mm x 34mm, weight 90g per head (excluding lense)
Battery backup for thirty minutes data retention in the event of power loss.
Engineered referring to SAE-J211 for operation under the most testing of environments and can operate under shock forces as massive as 100G's in any axis.
Global electronic shutter from 20ms to 6 µs
Memory Options 1GB or 2GB.
Recording modes: Start, End, Center, Manual, Random
Through a Gigabit Ethernet PC interface and optional RS-422 keypad
Photron FASTCAM Viewer: Simple and easy to control software for MH4 camera.
Applications: Automotive Safety Testing